Satellite Images, Meteorology, Weather, Space, Planets, Moons, Arctic
July 2001
Various views of the activity of Mt. Etna on Sicily, Italy starting mid July 2001.
Situated on the east coast of the Italian Island of Sicily, mount Etna went through a series of major volcanic eruptions during the second half of July 2001. Below is a gallery of images captured during the period of activity that extended from July 18 through to the beginning of August 2001.
The image above was published by NOAA as image of the day on July 23, 2001 and ran on the news on several major US TV stations as well as in Europe.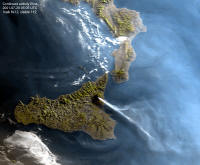 NOAA 12 geo-corrected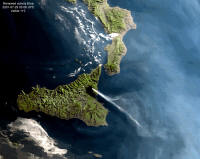 NOAA 14, geo-corrected
Above images were made at sunrise with the sun still skimming the horizon. The difference in lighting between NOAA 12 and 14 (1 1/2 minute apart) is not artificial but due to the difference in sensitivity between the sensors of both satellites.
Other Etna images: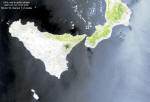 July 18: no visible activity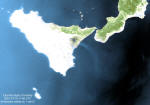 July 19: Ash plume starts to form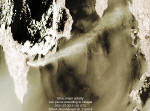 July 20: Major activity started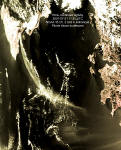 July 21: High activity, change in wind direction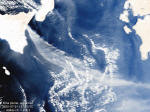 July 21: enhanced in visible light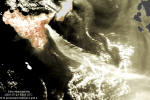 July 21: enhanced in channel 2 and 4

July 21: focus on structure in the ash plume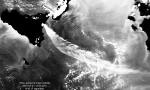 July 21: NASA JF algorithm

July 22: dispersed ash plume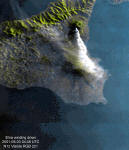 August 3: Signs of winding down activity