Satellite Images, Meteorology, Weather, Space, Planets, Moons, Arctic
Mount Etna on Sicily has been very active over the last years and with so may accessible satellites orbiting earth it has become feasible to monitor its behavior as seen from space.
This page aims at providing a view of the Etna over time during its active cycles.
October, November and December 2002
December 14, 2002: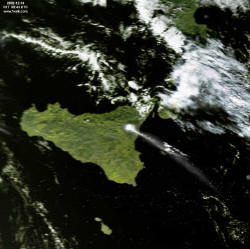 Etna, day 49. Moderately active in visible light.